MERAJ are pleased to offer PolyXT® Modular Technology for Municipal Trucks, an innovative solution that is completely corrosion free, lighter in weight with high strength properties.
MERAJ with its vast experience and working with Municipal Department in many countries understand the complex and demanding challenges faced by the User especially related to handling of highly corrosive material. Keeping in view MERAJ is a leading pioneer to offer PoyXT® products.
Meraj is the most well-known and reliable municipality truck manufacturer. Our trucks are designed to be used within the city limits. You can contact us for light, medium and heavy duty trucks. 
Meraj is committed to create the finest masterpieces of engineering that offer maximum functionality on the chassis. Such trucks are quite helpful to keep the city clean. Sewerage lines can be cleaned in an effective manner with the help of high pressure water jets and high power vacuum suction pumps. You can contact us to take delivery of a customized municipality truck that can be used for cleaning any blockage from the sewerage pipes.
MERAJ PolyXT® Water Bowzer are the most ideal solution to carry and transport all type of Water contents including Waste Water, Seawater or Fresh Water due to versatility of PolyXT® as it is maintenance free and requires no additional Coating for any type of Water and can be equipped with variety of Pump and Sprinkler system as per requirement of Municipal Departments.
Meraj PolyXT® Vacuum Bowzers are Modern and high-capacity suction trucks designed to collect rainwater, wastewater by suction. This unwanted water is released at the final disposal point. As a prominent municipality truck manufacturer, we try to integrate the latest features in the vehicle. This facilitates the municipality to do their job. The pumps used by municipalities in the UAE are very modern. It is possible to configure the trucks with hydraulic drive systems. Only a good customized municipality truck can take care of such aspects.
MERAJ PolyXT® Jetting and Vacuum Trucks is an effective solution for waste management 
Meraj also manufactures high pressure jetting trucks fitted with PolyXT® Tanks which is an effective solution in the form of the latest technology help with solid waste management. Cleaning debris in sewer and drainage systems is very challenging, especially when obstructions and blockages have to be removed. Our customized municipality truck can be equipped with a high pressure pump, especially designed as per the dimensions of sewer canals. Feel free to contact us if you are searching for a reliable municipality truck manufacturer. Our vehicles are available in a wide range of options. The trucks and other equipment of Meraj are second to none!
Advantages of PolyXT® in Municipality Truck 
PolyXT® structure made from High Density Polypropylene is superior technology offering lowest life cycle cost to the owners when compared with traditional technology such as steel structures used for body building. 
PolyXT® Modular solutions for Municipal Trucks are innovative solution that provide completely corrosion free to all types of water including sea water yet food grade with no additional coating or maintenance. 
PolyXT® are 40% lighter than steel which allows extra payload to carry within a GVW limit of the Truck chassis compare to steel. 
Salient Features of PolyXT®:
Customized design structure and tanks meeting the customer requirement.
Food Grade material that allow to store & transport of Drinking Water in a tank.
Suitable for Roughest Cross Country Operation
Structure design to sustain all dynamic forces
Absolutely Corrosion proof
Heat resistant upto 110 °C
Impact resistant
Various Chemical resistant
UV stabilized material
Light weight
Easily repairable
Paintable
Durable
Maintenance free
Environmental friendly 
100% recyclable at the end of service life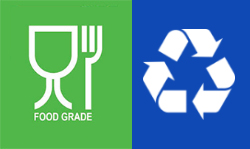 Product Name & Grades:
Water Tanker
For Drinking Water
For Potable Water
For Seawater / salty water
For Fire Water Supply
Vacuum Truck with PolyXT® Tanks
Jetting Truck with PolyXT® Tanks
Combined Suction & Jetting Trucks
Road Washer & Sprinkler
Vacuum Road Sweeper